Saturday, March 19, 2016 - 12:49
ID Tracker
Well here's an idea that we like and a great fit for TAWKers; an ID Tracker! 
Travelling with the kids is tricky enough, throw in the fact that you are often in the middle of nowhere as we travel this vast land and you step it up another level.  In my eyes this ID Tracker can really solve several problems and it's so obvious that it's needed, I can't believe I never thought of it!  They say the best inventions are the obvious simple ones and this one is both.
It can help with...
Being separated from your child
Advising allergies and medical conditions
Alerting authorities in the event of an accident who you are and who is needed to be contacted
The ID Tracker has been developed by two Aussies who have travelled extensively and realised from first-hand just how important it is to be identifiable in an emergency.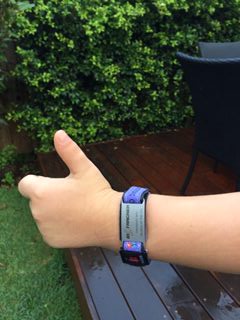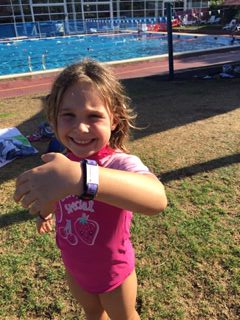 It's durable, light weight,  water-proof and shock-proof so you, or the kids
can have your ID Tracker on you anywhere at any time including; swimming, boating, jogging, climbing, exploring etc etc.  The wristband comes in sizes for adults and children - and you're going to love this....the dogs get a tag too!!
If your child suffers extreme reactions to bee stings, nuts or any other allergies, the ID Tracker has another use and can be a life saver, especially if you are not with them and they have an allergic reaction.  This takes the guesswork out, as medical information is easily accessible to help them.
As parents, you will love the extra sense of security you'll get when you know that, should your child suffer a medical emergency and for whatever reason, you are not with them, medical staff can access information quickly and it won't take long before you can be contacted.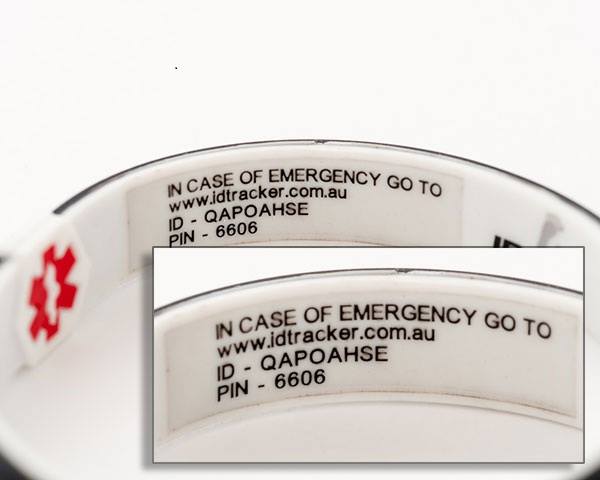 How does it work?
You will need to head to their website to find out all the details, but basically; The minute an emergency responder enters your unique ID code onto the ID Tracker website, they will access the vital medical information you've provided on your profile.
The outside of the band has that little picture of the International Medical Symbol on it and this alerts people that there is information on the band.  They can then follow the instructions to access the information that you have given.
Your profile can contain information on medications, allergies, blood type, travel companions and contact details for family and friends for emergency email notifications.  Pretty much anything that will help you in case of an emergency.
When they check your profile using the ID and PIN on your band they can then activate an emergency email (that you write yourself beforehand) to be automatically sent to loved ones, then if needed (although let's hope not!) medical personnel can contact with next of kin quickly and easily and then organise any medical treatment.
Setting up your profile is easy and you are guided through the setup of your profile where you can provide as much or as little information as you like. 
A great idea and one of those things that you hope you never need but an absolute lifesaver if you do.
Where can I find out more?
It's time to head to their Website and find out more - there is a FAQ section and information regarding privacy too.

As they are TAWKer Supporters, so you get a 10% discount.  Use the code TAWK to get yours.